You are here
News & Events
Top Stories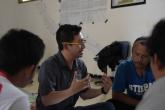 August 13th, 2019
Dr. Ignatius Cahyanto, Assistant Professor of Hospitality Management spent the summer in Banten Province, Indonesia...
Read More ➝
July 17th, 2019
Meet Katelyn Clay and Madison Scioneaux, seniors majoring in Marketing. Katelyn and Madison are spending their summer...
Read More ➝
May 16th, 2019
Zachary Wells is in an elite group. The University of Louisiana at Lafayette senior accounting major is among just 16...
Read More ➝
View All News
Upcoming Events